What is a Forced Matrix

---
When enrolling as a distributor/member/business owner, you become the leader of your own team (matrix/hierarchy). You are also part of matrix members above you which are their to help you, as you are there to help your own team.
Our system is designed in a way that forces your team to grow exponentially. Each of us can only have 2 or so members on our first level which means the next person "must" be placed under the first person on your first level (from left to right). This starts your second level of team members. Obviously, the matrix fills up much faster if you "personally" help enroll other members and teach your members to do the same. This is "not" a requirement but an "option". Doing nothing will still generate a small income in time. 2 or more personal enrollees plus spillover enrollee members will fill in your matrix to start generating an income which will be passed to your ewallet reserve (forced sales).
It is a bonus for those who wish to generate a much larger residual income. You will generate many more members increasing and speeding up your own residual income process. This is simple to do. Networking is just talking to people, sparking their interest and showing them what you are doing. If anyone has a facebook account or twitter, this is the same. Invite people to join!
---
THIS IS HOW A FORCED MATRIX WORKS IN A 5 X 5 MATRIX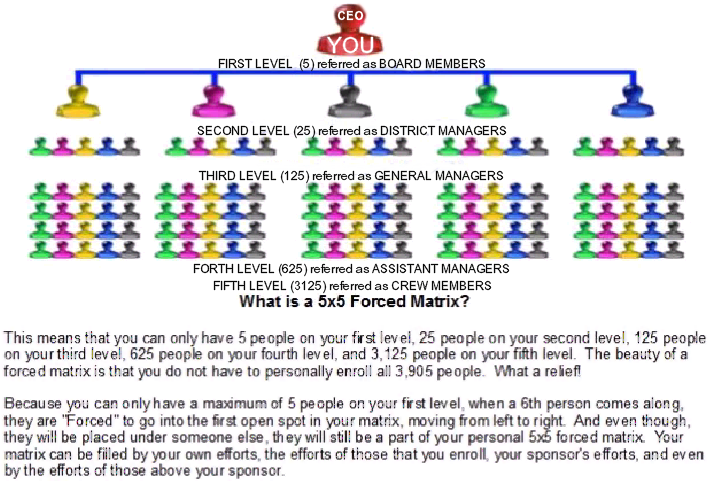 ---